Stannard Rock Learning Center
1.2 Billion years ago when the world was still young the North American Continent Split apart spewing molten lava across the land scorching and burning everything and anything in its path. This great rift in the Earth's crust was the formation of the Greatest of all the Great Lakes – "Lac Superior" as the French Voyageurs would name her.  She was the sweetest water with the bluest sky and the Greatest Fishing the world has ever known.
Torn from the tip of the Keweenaw Peninsula by tremendous tectonic forces, a small band of this prehistoric bedrock was thrust to the surface  in the middle of this mighty lake, creating an isolated world within a vast inland sea, known as the "Rock".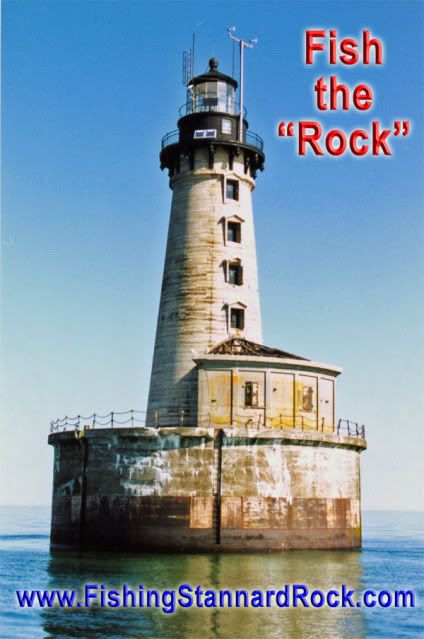 In modern times Lake Superior has cooled and now relinquishes giant Lake trout, with the recent state record of 61 1/2 plus pounds. The beautiful lake has a hidden secret, which holds these trophy lakers – Stannard Rock, located 45 miles North by Northeast of Marquette, Michigan in the heart of Lake Superior.
In early spring the gin-clear waters settle down from the raging storms of last year's gales to create the world's  finest lake trout fishery. This trip is for those who seek the thrill and excitement of battle and who enjoy the challenges that await them on this incredible Blue Water run. You are invited to join us this year, May through September on a quest to hunt and catch Trophy "Red Fin" Lake Trout on light weight spinning tackle.
Here's you weapon of Choice:
6 Foot Graphite Spinning Rod, with Shimano Ball Bearing Spinning Reel, spun with 300 feet of Fireline with an 18 foot long XT mono-shocker. The braided line is tied to the shocker with a uniknot and at end is a ball bearing swivel.
Your Guides will work with you so you will Master the secrets of catching Trophy Lake Trout on Light Tackle. Once you get the secret techniques you will be hammering home one Laker after another, some one has to fill the cooler and it might as well be you.
Now chose your Steel. Some like hot – some like it Red & White. Select from a wide variety of casting spoons, Dardevele, Cleos, Kastmasters, K.O. Wobler, or a wide assortment of deadly hooks.
Other ways to play include  Mega Baits, Swedish Pimples, Cripple Herrings and   lead head jigs; bucktails, rubbers, or plain steel tipped with a little sucker belly to sweeten the deal.